2016 Volume 9 Issue 1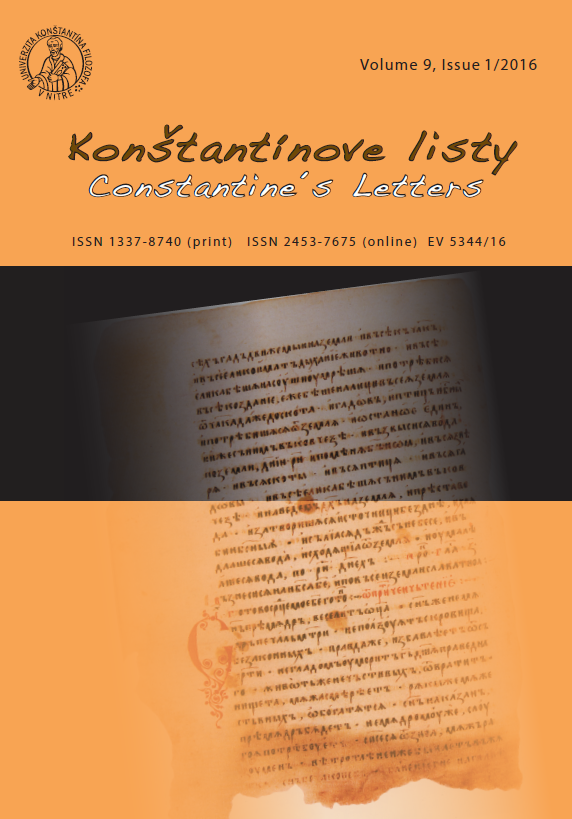 Články / Articles:
K PROBLEMATIKE BYZANTSKÝCH IMPORTOV NA ÚZEMÍ VEĽKEJ MORAVY V 9. STOROČÍ
(On the Matter of Imported Artefacts from the Byzantine Empire on Territory of Great Moravia in the 9th Century)
Ivanič, Peter
pages: 3-10
ΑΝΑΤΟΛΗ ΚΑΙ ΔΥΣΗ ΣΤΟ ΕΡΓΟ ΤΟΥ ΜΕΓΑΛΟΥ ΦΩΤΙΟΥ ΠΑΤΡΙΑΡΧΟΥ ΚΩΝΣΤΑΝΤΙΝΟΥΠΟΛΕΩΣ
(East and West in the Work of Photios the Great Patriarch of Constantinople)
Lamprou, Soultana D.
pages: 11-28
VYBRANÉ ASPEKTY CEREMÓNIÍ A AUDIENCIÍ SPOJENÝCH S POBYTOM KONŠTANTÍNA A METODA V RÍME. OTÁZKY PROCESIÍ A ARCHITEKTÚRY
(Selected Aspects of Ceremonies and Audiences Regarding Constantine and Methodius' Stay in Rome. A Question of Processions and Architecture)
Husár, Martin
pages: 29-38
PERSONÁLNE OBSADENIE SPIŠSKEJ KAPITULY V ČASE POSOBENIA PAVLA A HENRICHA (1301 – 1323)
(Staffing of Spiš Chapter During the Period of Supervision of Prelates Pavol and Henrich (1301 – 1323))
Labanc, Peter
pages: 39-49
NEZNÁME CIRKEVNO‑SFRAGISTICKÉ ARTEFAKTY ZO STREDOVEKÉHO SPIŠA
(Unknown Medieval Ecclesiastical‑Sphragistic Artifacts Found in the Spiš Region)
Glejtek, Miroslav
pages: 50-63
Η ΛΕΙΨΑΝΟΘΗΚΗ ΤΗΣ ΚΑΡΑΣ ΤΟΥ ΑΓΙΟΥ ΚΛΗΜΗ, ΑΡΧΙΕΠΙΣΚΟΠΟΥ ΑΧΡΙΔΑΣ ΑΠΟ ΤΗ ΜΟΝΗ ΤΟΥ ΤΙΜΙΟΥ ΠΡΟΔΡΟΜΟΥ (ΣΚΗΤΗ ΒΕΡΟΙΑΣ)
(The Reliquary of the Skull of Saint Clement, Archbishop of Ohrid from the Monastery of Holy Prodromos (Scete Veroias))
Chatzoulis, Glykeria M.
pages: 64-90
ARCHITEKTONICKÉ PRVKY FARSKÝCH A FILIÁLNYCH KOSTOLOV HRADNIANSKEHO ARCHIDIAKONÁTU NITRIANSKEJ DIECÉZY ZAČIATKOM 18. STOROČIA
(Architectural Patterns of the Parish and Filial Churches in the Arch‑Deanery of Hradná in the Diocese of Nitra in the Early 18th Century)
Ďurčo, Marek
pages: 91-109
HISTORICKÉ POZADIE VZNIKU BYZANTSKEJ FILOZOFIE
(Historical Background of the Origin of Byzantine Philosophy)
Zozuľak, Ján
pages: 110-118
VYBRANÉ OTÁZKY BYZANTSKÉ FILOSOFIE
(Selected Questions of Byzantine Philosophy)
Milko, Pavel
pages: 119-135
DEJINNOSŤ FILOPONOVEJ KRITIKY ARISTOTELA
(Historicity of Philoponus´ Critique of Aristotle)
Mitterpach, Klement
pages: 136-148
PRAKTICKÁ FILOZOFIA V ŽIVOTE KONŠTANTÍNA A METODA
(Practical Philosophy in the Lives of Constantine and Methodius)
Zozuľaková, Viera
pages: 149-157
ΕΥΡΩΠΑΪΚΟΣ ΔΙΑΦΩΤΙΣΜΟΣ ΚΑΙ ΟΡΘΟΔΟΞΟΣ ΧΡΙΣΤΙΑΝΙΚΟΣ ΦΩΤΙΣΜΟΣ. Η ΔΥΝΑΜΙΚΗ ΕΠΙΒΙΩΣΗ ΤΟΥ ΗΣΥΧΑΣΜΟΥ ΣΤΟ ΚΙΝΗΜΑ ΤΩΝ ΚΟΛΛΥΒΑΔΩΝ
Karamanidou, Anna Stef.
pages: 158-182
MICHAŁA PSELLOSA "KIEDY PADAŁ DESZCZ I NIE PRZYSZLI JEGO UCZNIOWIE DO SZKOŁY"
(Michael Psellos' 'When Students Did Not Come to School Because It Was Raining')
Jaworska-Wołoszyn, Magdalena
pages: 183-191
SLOVANSKÁ BOHOSLUŽBA V ČESKÉ ŘÍMSKOKATOLICKÉ CÍRKVI V SOUČASNOSTI JAKO CYRILOMETODĚJSKE DĚDICTVÍ
(Slavonic Liturgy in the Present‑Day Czech Roman Catholic Church As a Legacy of Cyril and Methodius)
Vepřek, Miroslav
pages: 192-198
FORMOVANIE BYZANTSKO‑SLOVANSKEJ KONFESIONÁLNEJ IDENTITY V STARŠOM OBDOBÍ SLOVENSKÝCH KULTÚRNYCH DEJÍN
(Formation of the Byzantine‑Slavic Confessional Identity in an Earlier Period of the Slovak Cultural History)
Žeňuch, Peter
pages: 199-209
GREGORY PALAMAS ' ONTOLOGY AS THEORETICAL FOUNDATION OF AXIOLOGICAL ASPECTS OF THE PHILOSOPHY OF "ALL-UNITY"
Kletskova, Iryna – Lyahchylin, Anatoliy
pages: 210-214
ORTHODOX RELIGIOSITY IN MODERN BELARUS: AFTER TRADITION 'S BREAK (PRELIMINARY DATA)
Karassyova, Svetlana
pages: 215-224
Recenzie / Book reviews
Václav Konzal. Staroslověnská modlitba proti ďáblu. Nejstarší doklad exorcizmu ve velkomoravském písemnictví (Tomáš Bánik) / 225 /
Miloš Marek (ed.). Archivum familiae Očkaj. Stredoveké dejiny rodiny Očkajovcov a listiny z jej archívu : Fontes rerum Slovacarum IV (Peter Labanc) / 226 /
Martin Čapský. Město pod vládou kazatelů (Charizmatičtí náboženští vůdci ve střetu s městskou radou v pozdně středověkých českých korunních
zemích) (David Jablonský) / 228 /
Mária Munková – Lenka Pavlíková (eds.). Na sútoku riek. Život v slovensko‑rakúskom pohraničí (Tomáš Tandlich) / 231 /
Kult svatých Cyrila a Metoděje na Moravě (raného) novověku v recentní literatuře (Jakub Zouhar) / 235 /
Hana Jordánková – Ludmila Sulitková. Bibliografie k moravským královským městům ve středověku a raném novověku (1990 – 2010) (Martina Bolom‑Kotari) / 236 /
Юрій K. Савчук (ed.). 1000 років української печатки / 1000 years of Ukrainian seal. Каталог виставки 24 травня – 15 листопада 2013 (Marcin Hlebionek) / 238 /
Správy / Chronicle